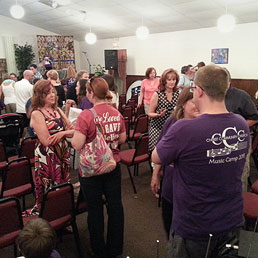 It's not about guilt; it's about forgiveness.
It's not about judgment; it's about compassion.
It's not about rules; it's about freedom.
It's not about religion; it's about life.
Christ Community Church (CCC) is ordinary people loving, worshipping, and serving an extraordinary God. We believe in the unbelievable—that God loves all of us as we are, right now, and He loves us too much to leave us that way. God is changing us…baby-step by baby-step. We are not perfect—no perfect people allowed!—but we are trying our best to follow Jesus in our imperfection.
CCC is not a building; it is people. And these people are a family. A family that is always looking for others to join us in the great adventure of following Jesus.
So, who is this Jesus? We're glad you asked.»
Mission Statement
Our mission is to lead people into a growing, loving, committed relationship with God and each other through Jesus Christ and the Holy Spirit as taught in the Bible.
What We Believe
God is good all the time and all the time God is good.
Jesus makes it possible for us to be found rather than lost, seeing rather than blind, saints rather than ain'ts.
It's all about faith, grace and Jesus.
The Bible—God's word—is important and we read it, study it and talk about it so we can get to know the Author.
The Church is BIG! Jesus is in charge.
We are a part of this big Church and are partners with other churches that are also part of it.
Jesus gives us a purpose and a mission: Love God, love people.
"Teacher, which is the greatest commandment in the Law?"
Jesus replied: " 'Love the Lord your God with all your heart and with all your soul and with all your mind.' This is the first and greatest commandment. And the second is like it: 'Love your neighbor as yourself.' All the Law and the Prophets hang on these two commandments."
[Matthew 22:36-40]
"All authority in heaven and on earth has been given to me. Therefore go and make disciples of all nations, baptizing them in the name of the Father and of the Son and of the Holy Spirit, and teaching them to obey everything I have commanded you. And surely I am with you always, to the very end of the age."
[Matthew 28:18-20]
Don't take yourself too seriously; take God very seriously.